Hire a skilled professional to remove Tree Stumps from your Gloucestershire garden!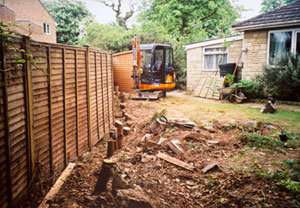 Tree stumps in Gloucester and Cheltenham can be extremely difficult and time-consuming to remove by hand from the ground. Some people may opt to use a tree stump grinder, which will grind the stump to just below ground level. However grinding will inevitably leave roots or suckers in the ground which may either regrow or prevent the area being replanted. If you wish to replant, it is essential to remove the whole tree stump, together with the root ball any large roots - this is what we aim to do at Awkward Excavations!
I can efficiently excavate unwanted tree stumps of all sizes, together with their associated roots in the Gloucestershire area. I am an experienced digger operator and so competitively priced that it is not worth hiring the equipment from the local plant hire shop. I can often have the work finished in the time it would take you to familiarise yourself with the controls!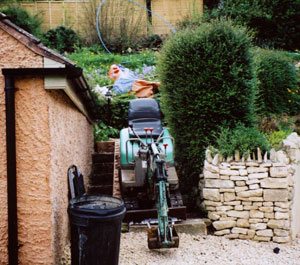 Restricted access is not a problem as my smallest digger is just 27 inches wide. There is minimum upheaval to the surrounding areas and I can also operate the excavator on steep inclines. All tree stumps and root balls will be removed from site. I can also remove large shrubs quickly and efficiently.
Awkward Excavations is fully insured for your peace of mind and you can be assured that we will carry out the work professionally and thoroughly.